Services in Florida only.
Coming soon to Louisiana.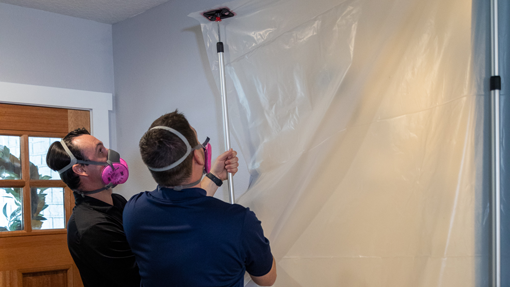 The price of our paradise
Mold can grow quickly in Florida where we are lucky enough to call home because of our high humidity environment. New, energy efficient homes are particularly prone to mold growth due to their tightness and restricted air movement. However, all properties are at risk. Water damage leads to mold growth, which can occur regardless of the age of the property.
Common causes of mold
Mold growth in properties are caused by moisture levels exceeding the tolerance of building materials and structures. Mold damage occurs after water enters the structure and is unable to evaporate in a timely manner. The two most common causes of water damage and subsequent mold growth are faulty plumbing problems and roof leaks. Both of these issues are "invisible" and often occur behind walls and may not be immediately apparent until mold colonies begin to spread. In addition to faulty plumbing and roof leaks, mold growth commonly occurs when HVAC systems malfunction or are turned off in unoccupied homes and municipal buildings. If left untreated for too long, mold growth will damage building materials and have a permanent effect which requires costly repair. The longer mold is allowed to grow, the costlier the repairs will be.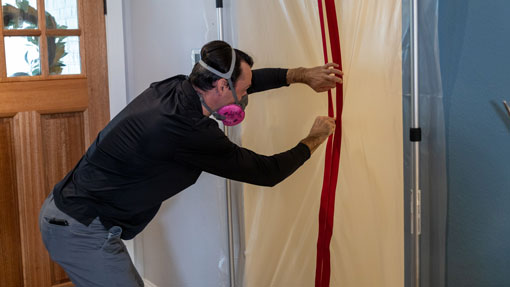 Effects of mold
When the amount of mold in residential or municipal structures exceeds normal levels it can affect the health of occupants and possessions within the structure. Mold spores can cause allergic reactions, asthma attacks, chronic sinus problems, poisoning by mycotoxins, fungal infections and even cause fatigue and depression.
What is mold?
Mold and mildew are naturally occurring microorganisms that exist everywhere, especially in the high humidity environment of Florida. Mold is an insidious and often "invisible" problem in structures, and it can do more than just spread and be unsightly. These microbes can be toxic, non-toxic, and can be found in a variety of colors including black, purple, and green. The first sign of mold or mildew is often a musty odor. After a period of time it may become visible on ceilings, walls, floors and doors and will spread quickly if left untreated.
Where Molds commonly grows &
the Common warning signs of mold growth
While you should always leave mold detection and remediation to professionals, some of the problem areas and the warning signs that you can lookout for include:
Dark spots on floors, walls
Dark spots on ceilings
Musty odor
Condensation on glass or
metal surfaces
Respoiratory and allergy issues
Window frames
Caulking
Ventilation systems
Drywall and subflooring
Fabrics
Wallpaper or painted walls
Wet walls
Carpeting
Water-damaged mattresses
Crawl spaces
Showers
Attics
Bathrooms
Basements
ADS mold remediation process
Remediating mold quickly is essential to the health of building occupants and the structure of the property itself. Our mold remediation services are performed by trained ADS technicians that have been certified by the Institute of Inspection Cleaning and Restoration Certification (the "IICRC") to perform mold removal and treatment services. Our IICRC certified technicians will thoroughly inspect, assess and remediate your home or building.
Mold remediation begins with an assessment of damage and establishment of a protocol outlining specific measures required. Once identified, steps are taken to prevent cross-contamination of unaffected areas. Formal remediation includes the removal of all damaged materials and a thorough cleaning of the contaminated areas to ensure all residual mold spores have been removed. Once completed, a Post Remediation Verification (PRV) is done to verify that the remediation was performed successfully. Documentation is done throughout the entire remediation process to ensure quality.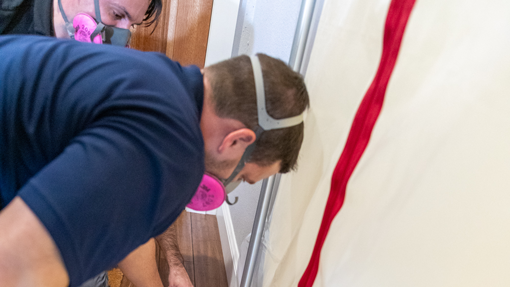 ADS Mold Remediation services include:
24/7 emergency response – We will be on site and ready to help within hours
Assessment of mold infiltration
Containment of affected area and removal of contaminated materials
Application of disinfectants and antimicrobials used to help prevent future mold growth
Sanitation, deodorization and air purification
Assistance with the insurance claims process